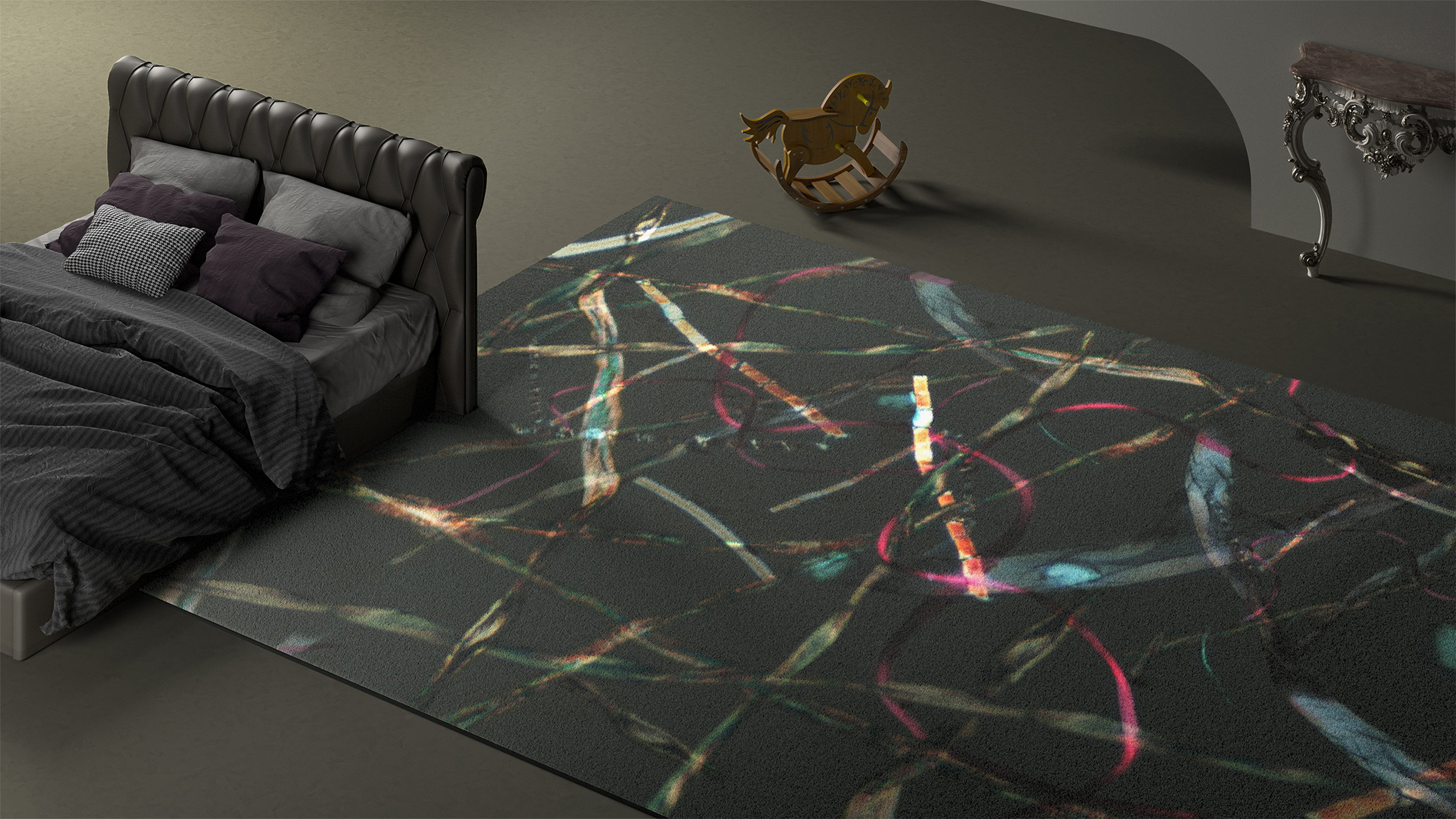 'Dare to design what we dream, away from norms and forms' is the spirit behind Yo2's creations. Following the studio's ongoing research on the subject of extinction, we decided to take this spirit a bit further, infusing it with meaning and starting with a first collection that aimed to create awareness regarding issues of extinction caused by human activities. Discover more on : yo2.io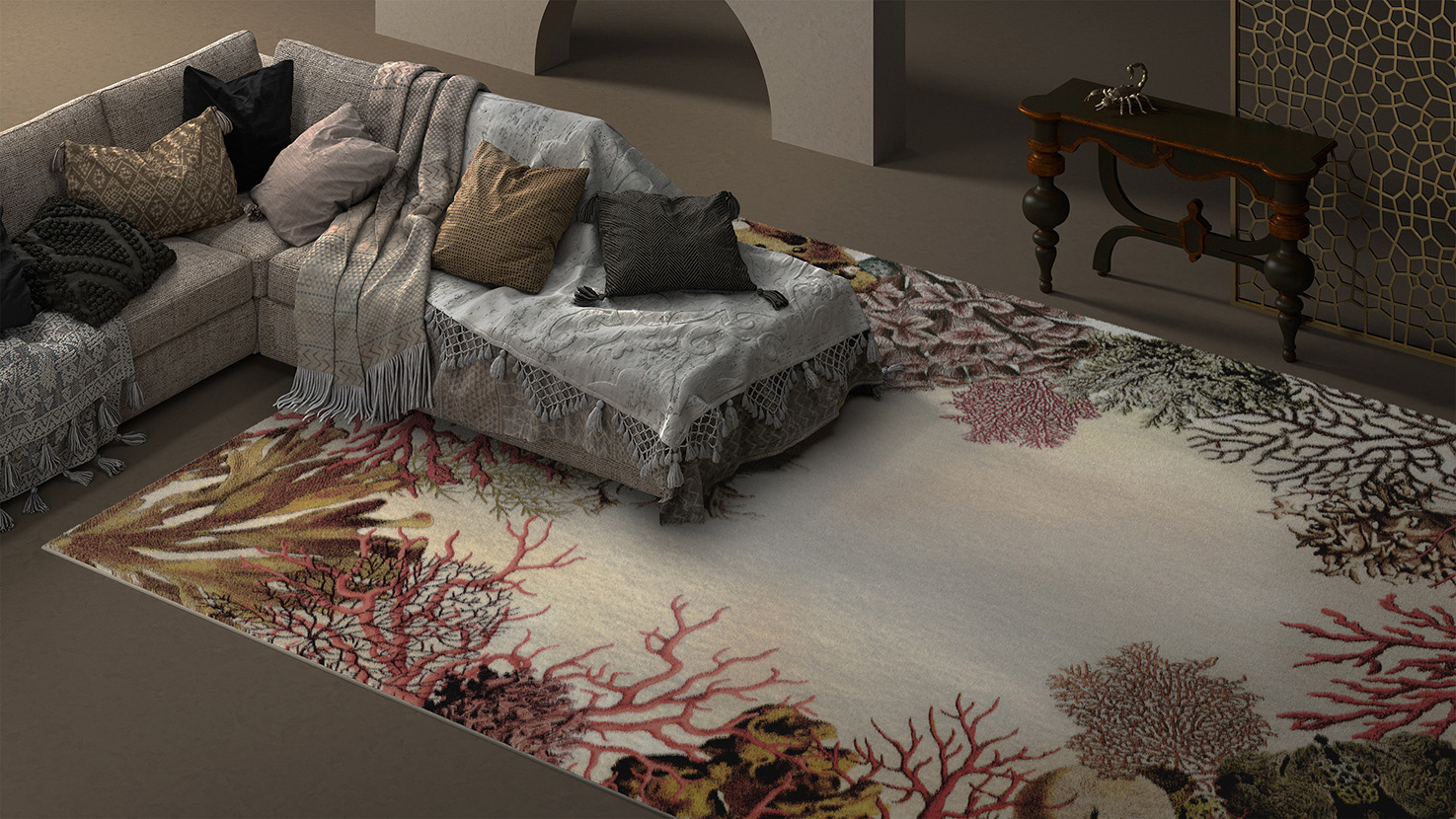 Coral Loss | 2019
A series of carpets that investigates the wonderful nature of corals and their terrible fate. Corals bleaching is a tangible sign of their reaction to some kind of stress, especially when the water temperature rises. Before dying, corals produce vibrantly colored chemicals that act as sunscreens to protect themselves. This way, they create a range of "glowing" colors that embody these ecosystems' beautiful death.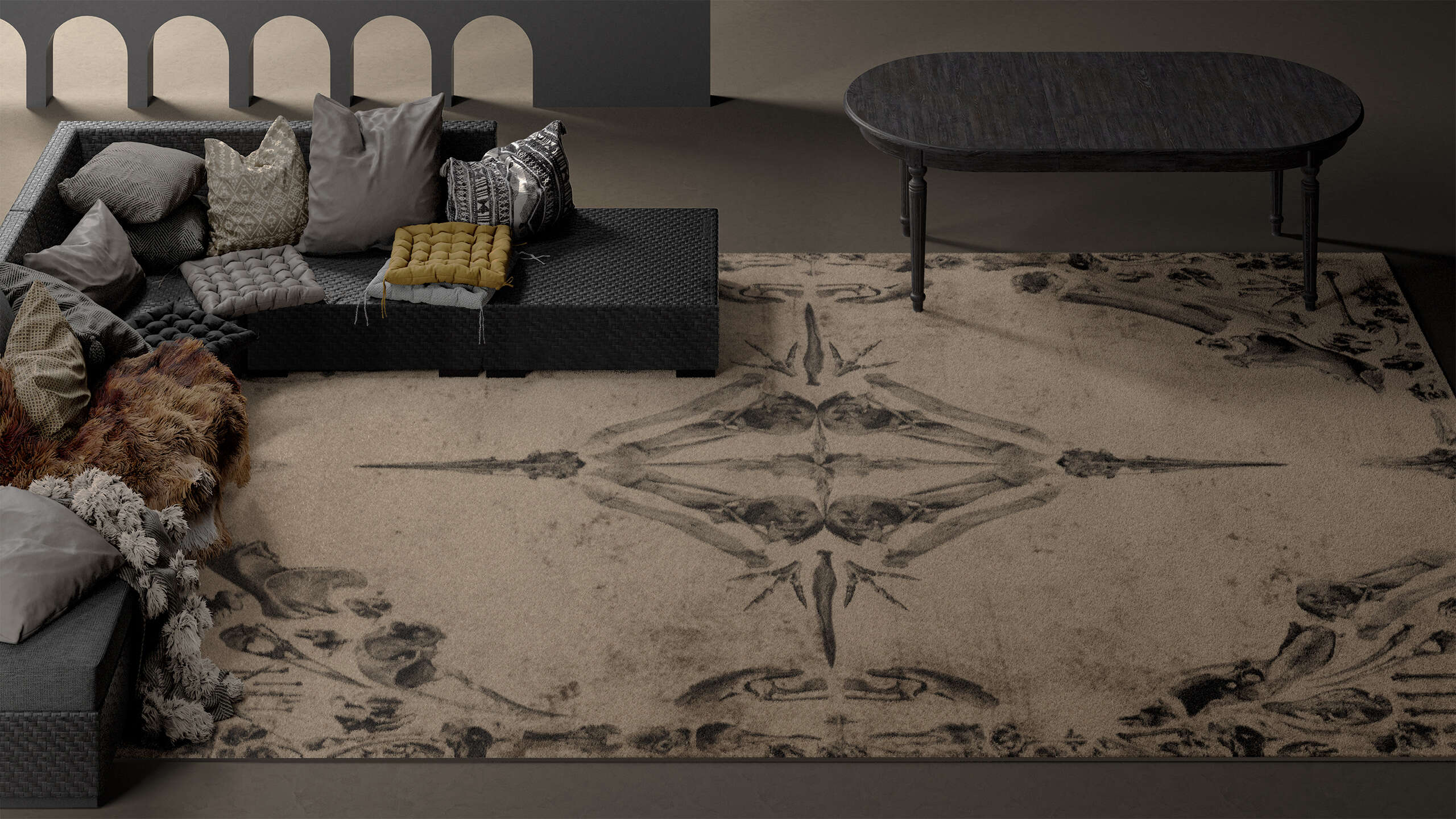 Animal Less | 2019
The geometry of traditional carpets is reinterpreted through an unusual composition. Skeletons belonging to extinct species emerge from the pattern. The decoration of the carpet immortalises and consecrates a passage, which took place under our feet.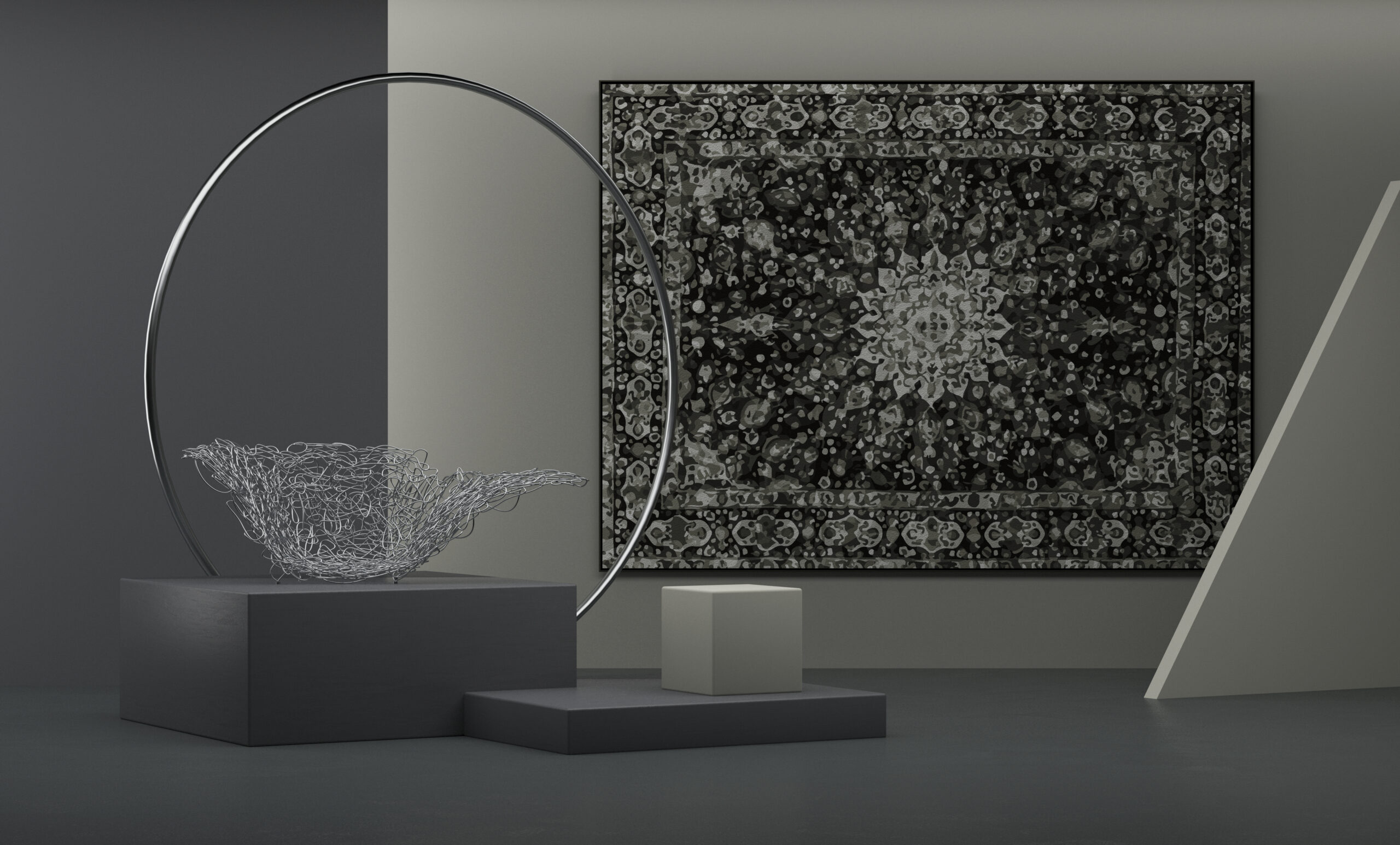 Domestic Nature | 2019
The mimetic nature has guided the imagery of these rugs which, starting from classic compositions of Oriental and European carpets with floral and naturalistic subjects, are re-traced in order to be placed in the contemporary homes. Traditional carpets' grid gets camouflaged inside the domestic areas – evoking this way a history of past – and traces its personal future of false appearance.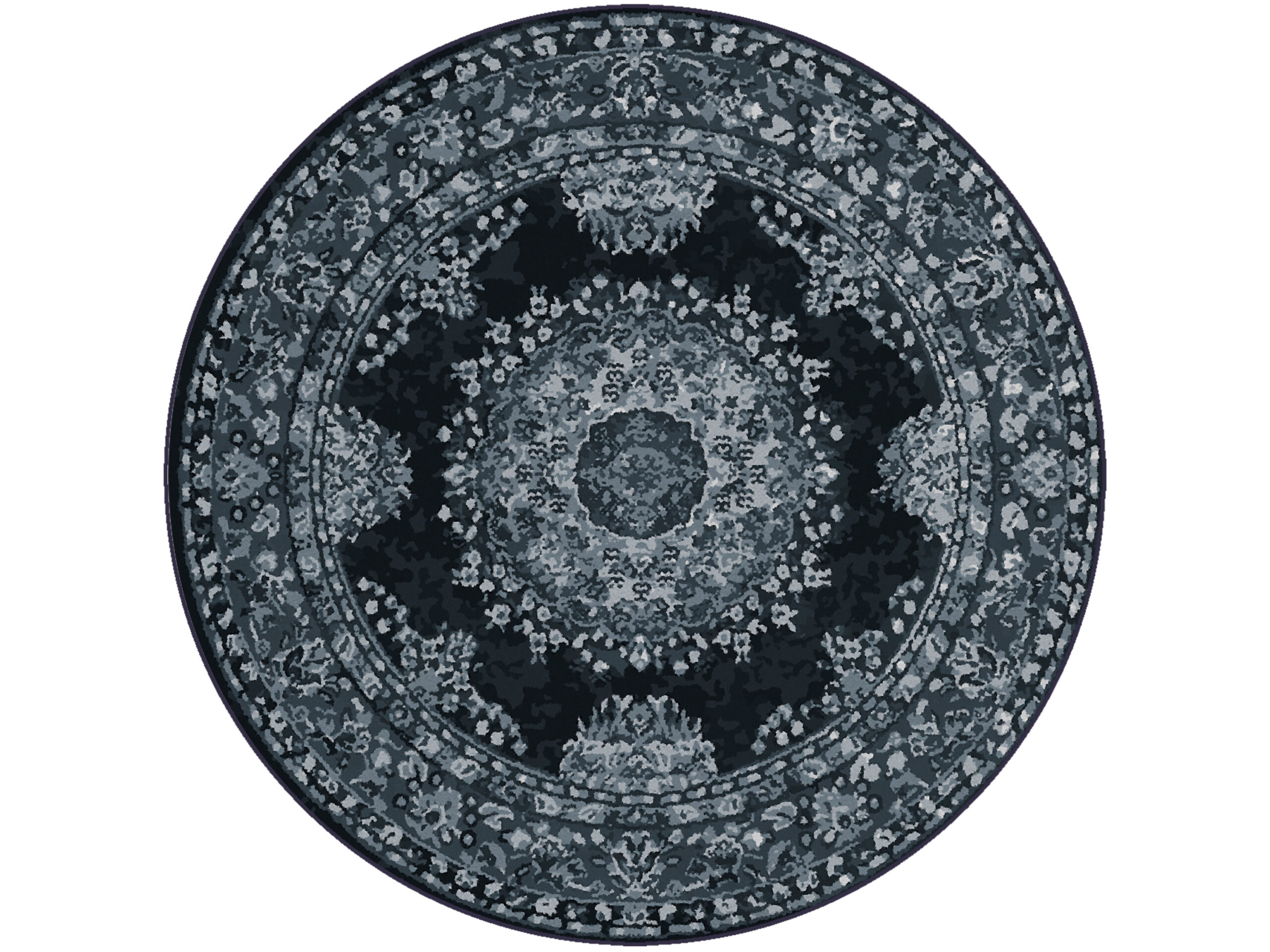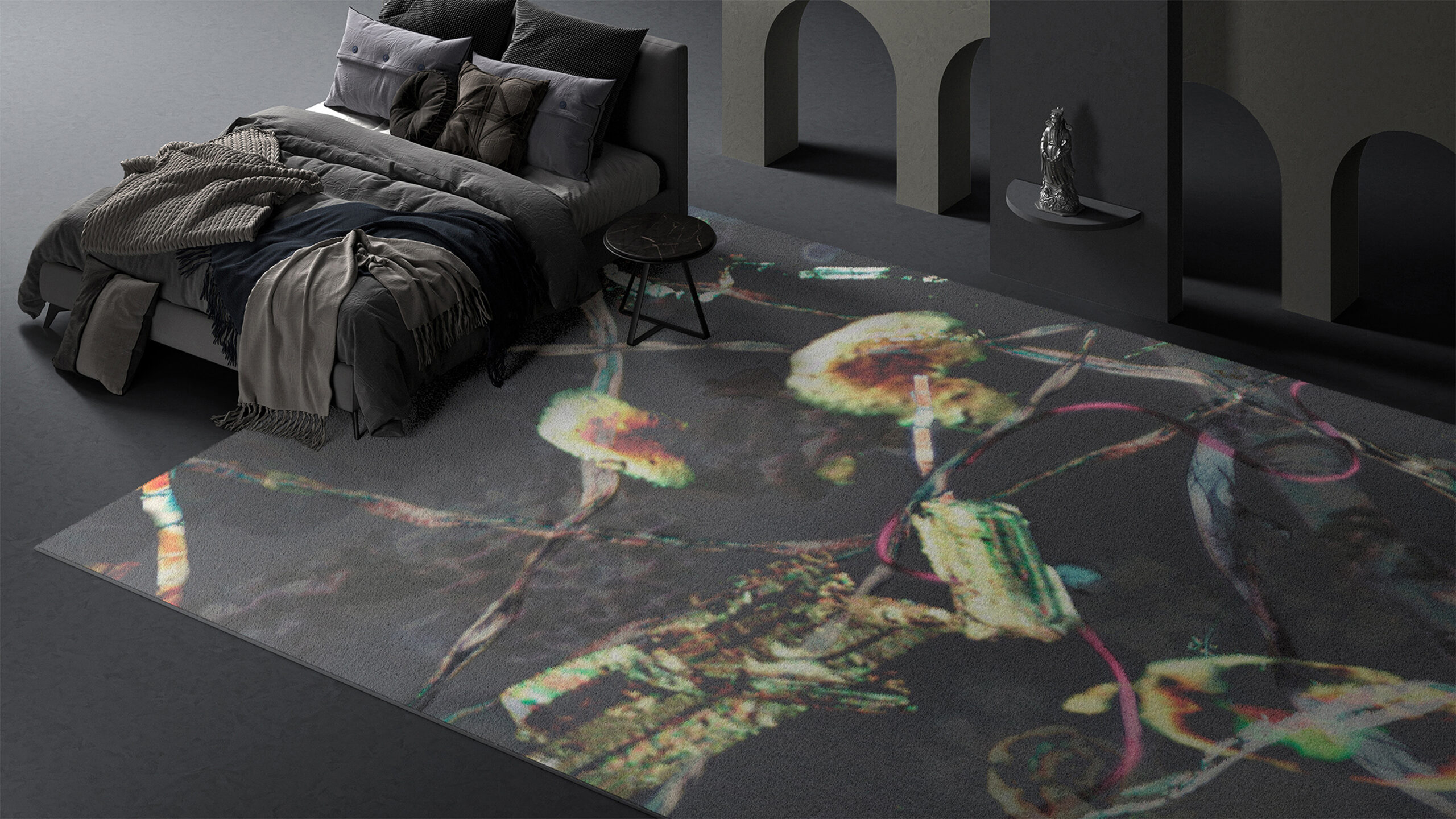 Invisible | 2020
Beyond our normal vision, invisible traces of miniscule entities coexist within each and every carpet. Unexpected forms are revealed through the microscope giving life to playful compositions. Carpet deodorants become shimmering crystals, dust particles mingle which each other creating 'terrazzo' like mosaics and fibers of diverse nature compose a jungle of coloured strips. Domestic chemistry meets creativity with surprising results.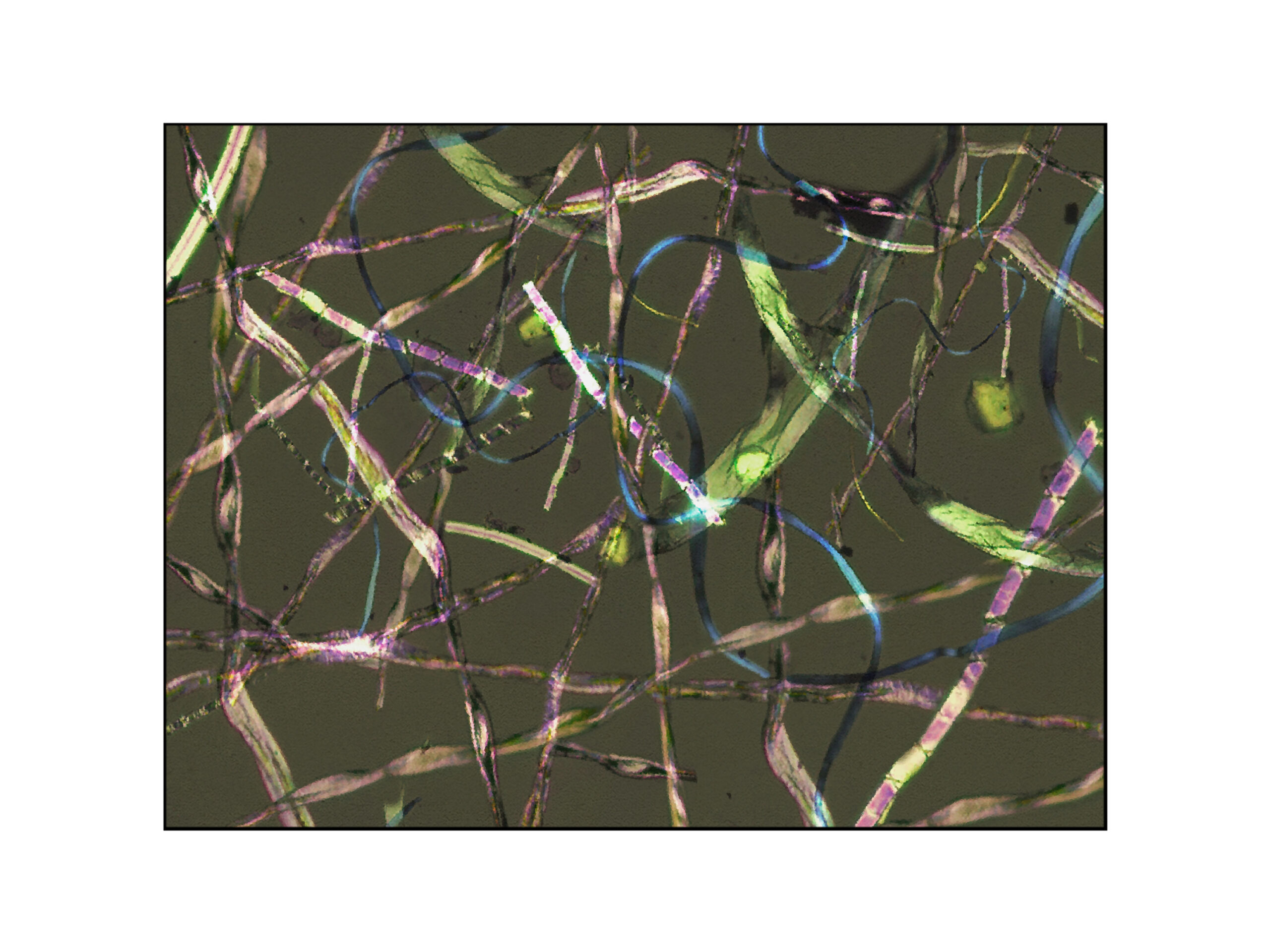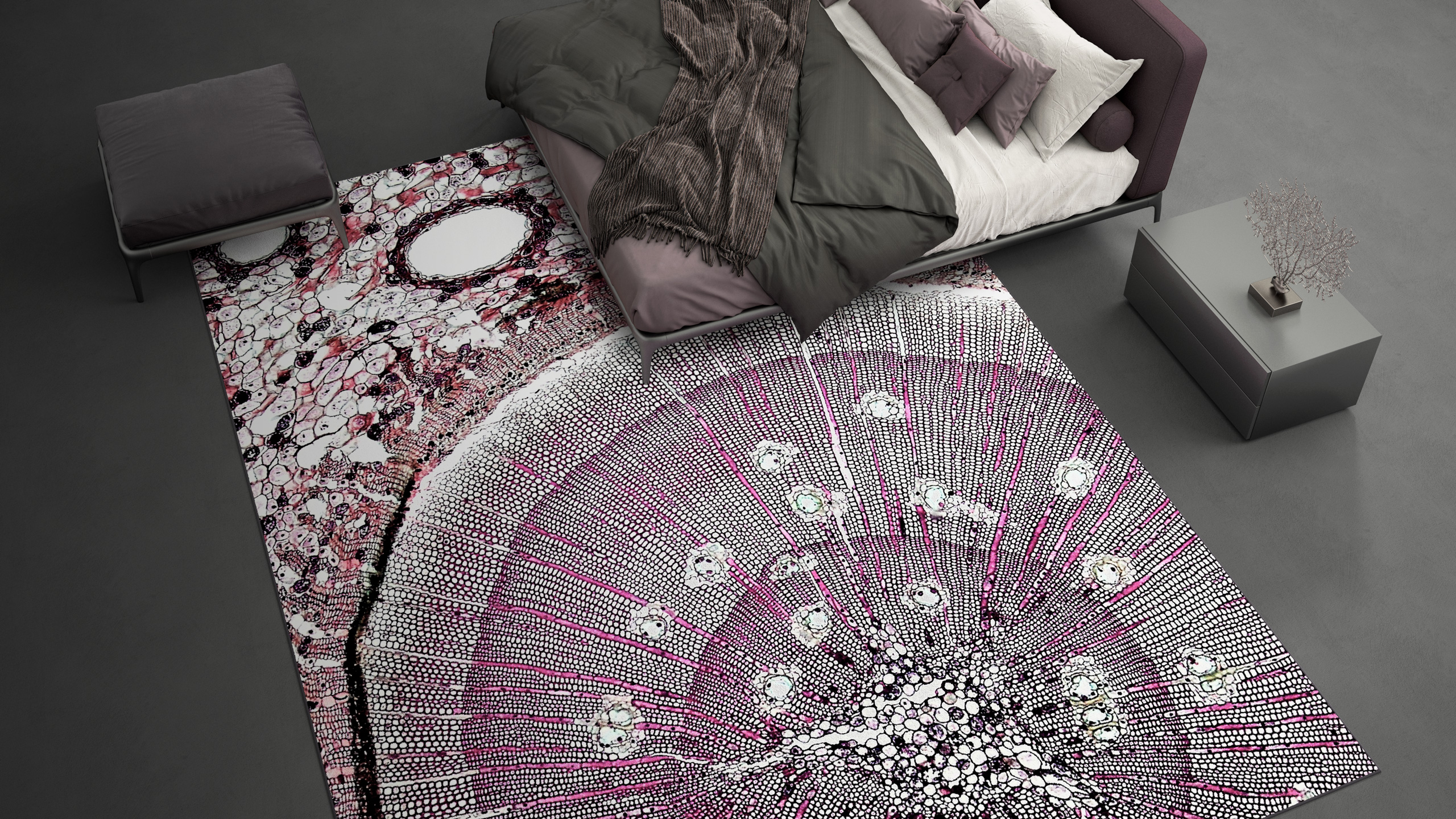 Pinus | 2023
A carpet that depicts a microscope image of the pine stem, characterized by the presence of numerous resin-ducts and tracheids with diverse bordered pits on their radial walls. A whole new universe to walk in that make people ponder upon their relationship with nature.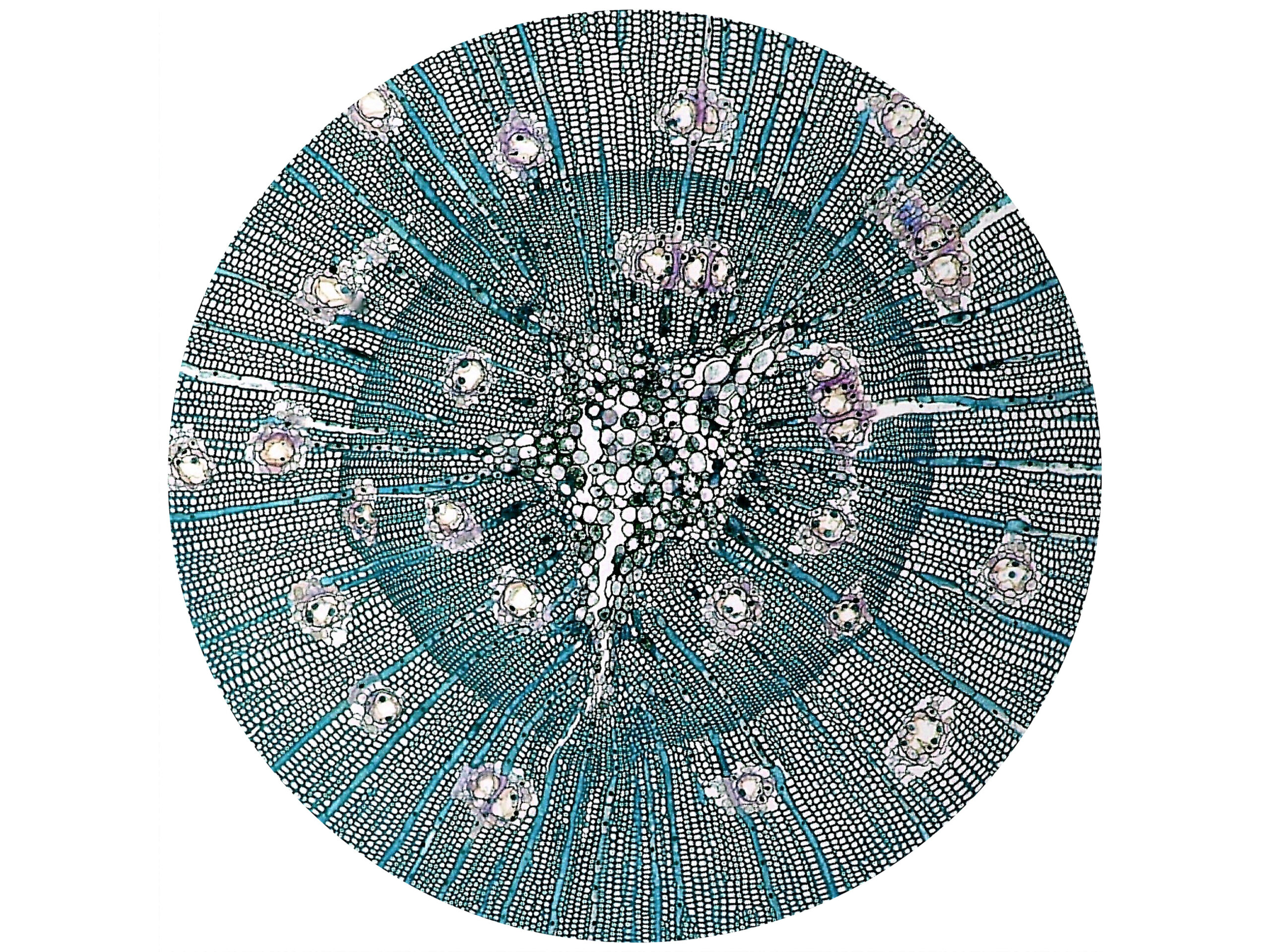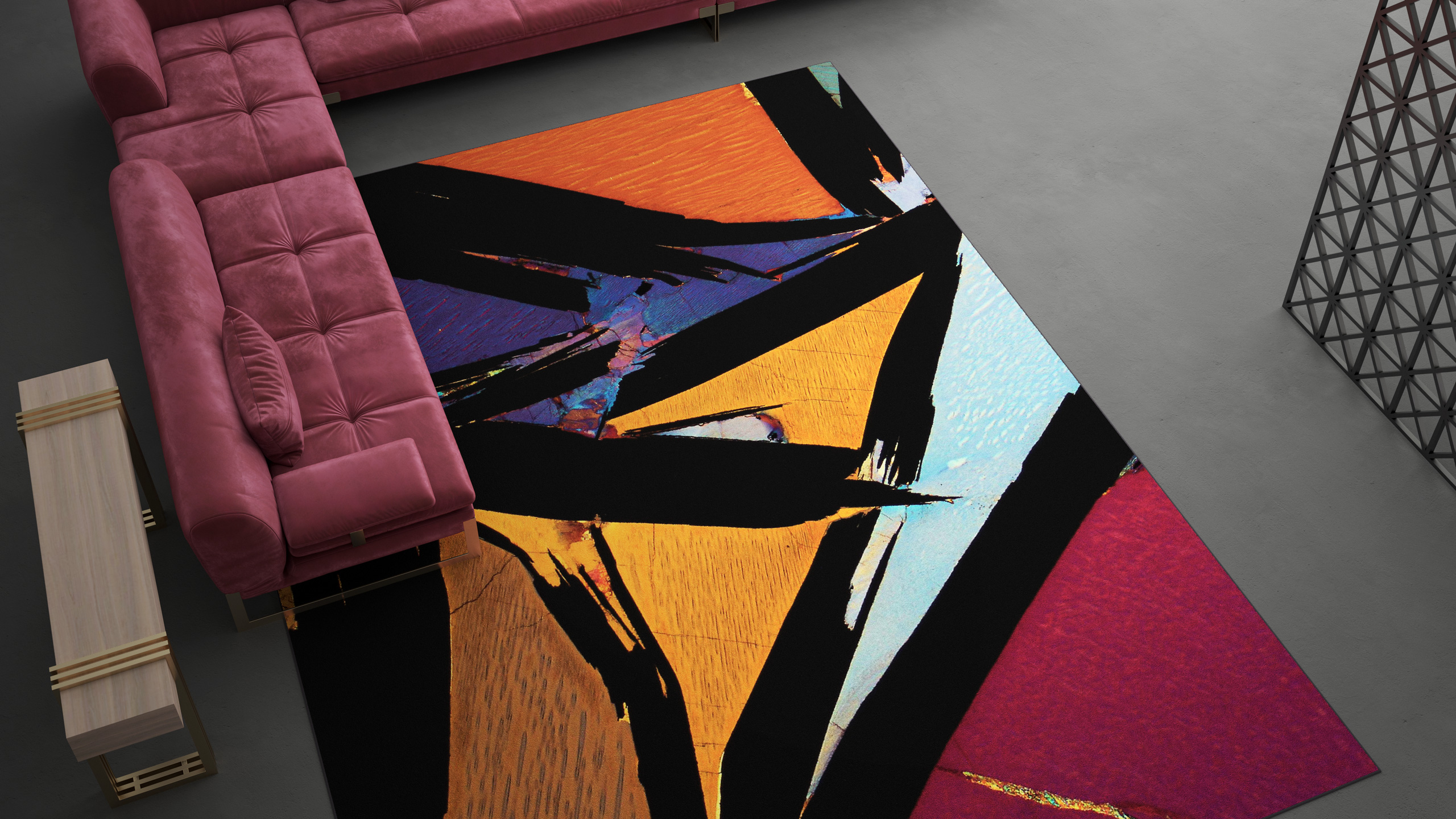 Graphite | 2023
A macroscopic graphite-bearing rock landed in our domestic habitat. Graphite is a mineral composed of stacked sheets of carbon atoms with a hexagonal crystal structure which, depicted in this carpet, invite the dwellers to look at things on a different perspective.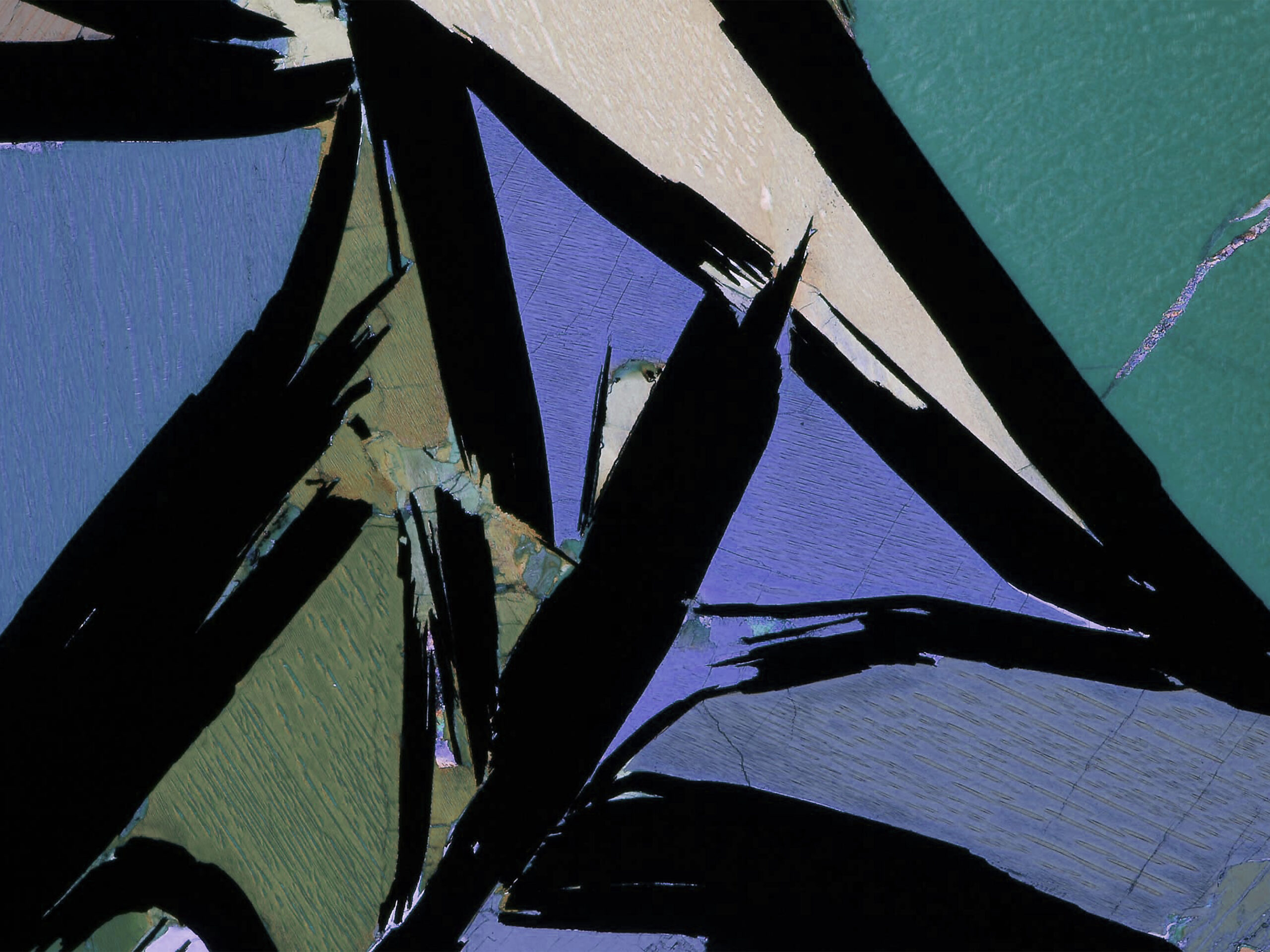 Oniro Lab
Next