Inhaling the future, exhaling the past; spoiling the ticking of time by creating the impossible. Stories that make you reflect on their true meaning giving life to creations of worlds unseen. JCP is an imaginative universe that transforms our normality by encouraging us to reflect on our own way of life, here on Earth. JCP is an eclectic brand that aims to change the design status quo in a revolutionary way. Brainchild of a radical think tank held in Milan in 2015, JCP was conceived by architect Livio Ballabio and is orchestrated by CTRLZAK studio. A fusion between art and design, the brand's creations blend classic and contemporary style in a surprising new idiom that defies the norms. The unique objects featured go beyond mere aesthetics, trends and common taste promising to transform everyday life. Discover more on : jcpuniverse.com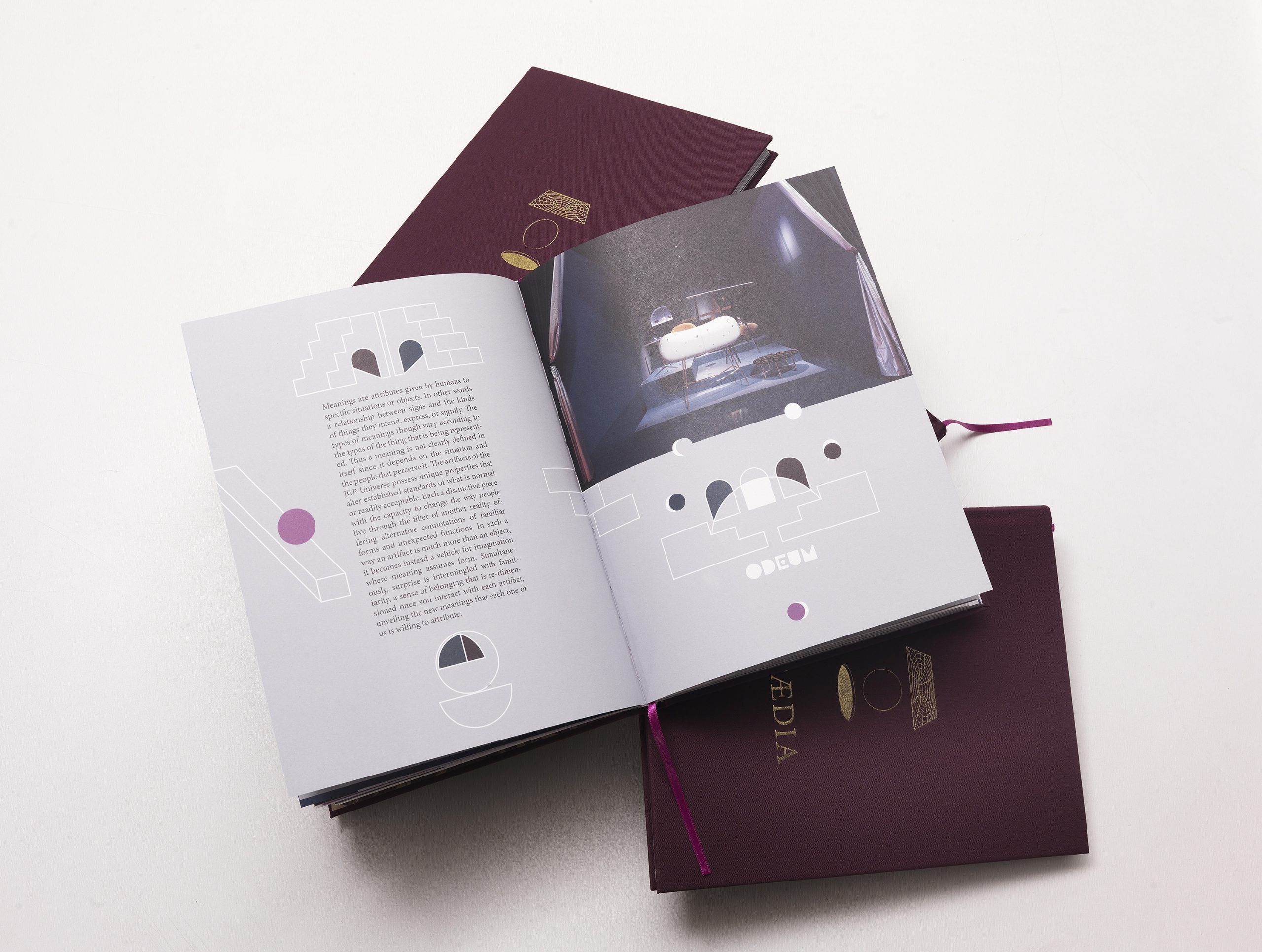 'JCPÆDIA' Catalogue
Encyclopaedias are an evolution of dictionaries, not limited in simple definitions. They provide instead a more extensive meaning for a subject or discipline. In such a way, encyclopaedias are able to treat a topic in more depth, and convey the most relevant accumulated knowledge on that subject. With the aim of investigating JCP Universe as complex, multiform and multidisciplinary entity, the JCPædia is an uncommon encyclopaedia that offers an overview of the JCP Universe since its conception, presenting key moments during the evolution of this otherworldly reality.
Alternate Lifeforms | 2022 Milan Design Week
"So, what exactly is life? How can life be defined? There is still not a general consensus in the scientific or philosophical community regarding a definition of life and every day we discover new entities on our planet that could be considered alive. On the most fundamental level, all matter that exists is an arrangement of atoms and their constituent particles. These arrangements fall onto an immense spectrum of complexity, from a single hydrogen atom to something as intricate as a brain. In the end, life is just a concept invented by humans."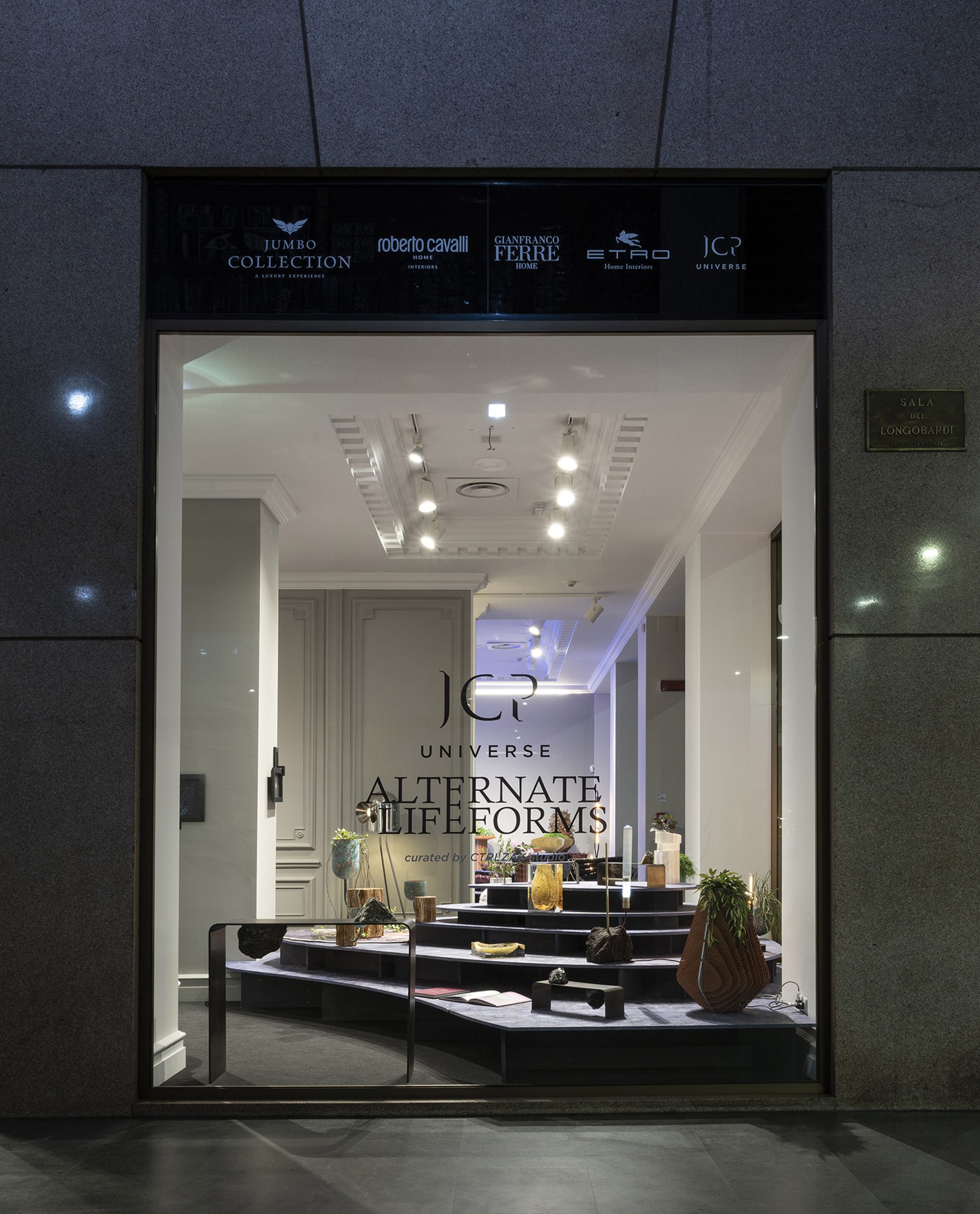 Parallel Lifeforms | 2022
The exhibition Parallel Lifeforms offers a journey/immersion in a continuously expanding universe in which it's possible to encounter works that could correspond to sentient forms, or at least forms endowed with a "thought" (therefore able to embody a vital idea, if not immortal); not another form of life, but a true life that has decided to exist in a eu-tòpos, a happy place, rather than in an ou-tòpos.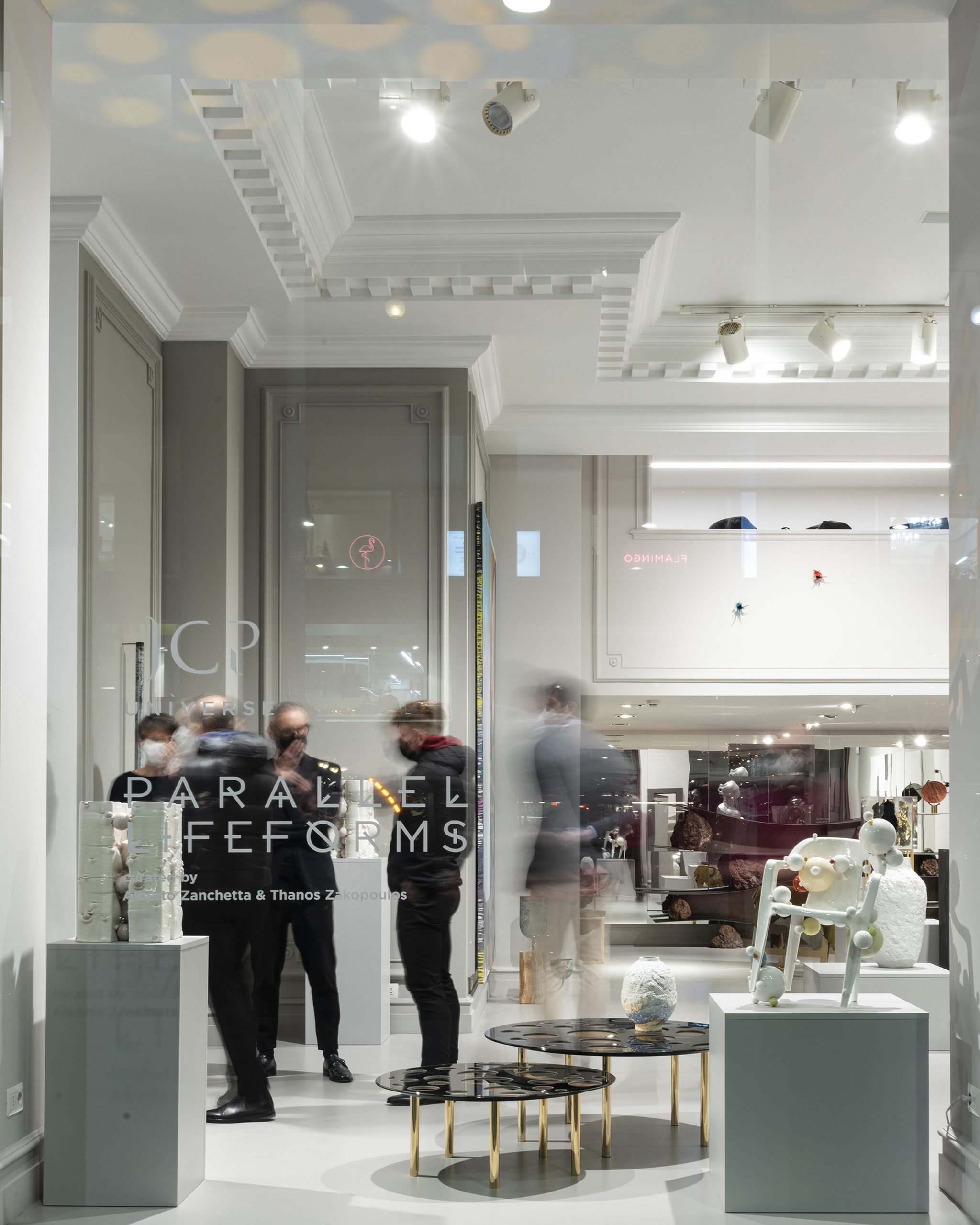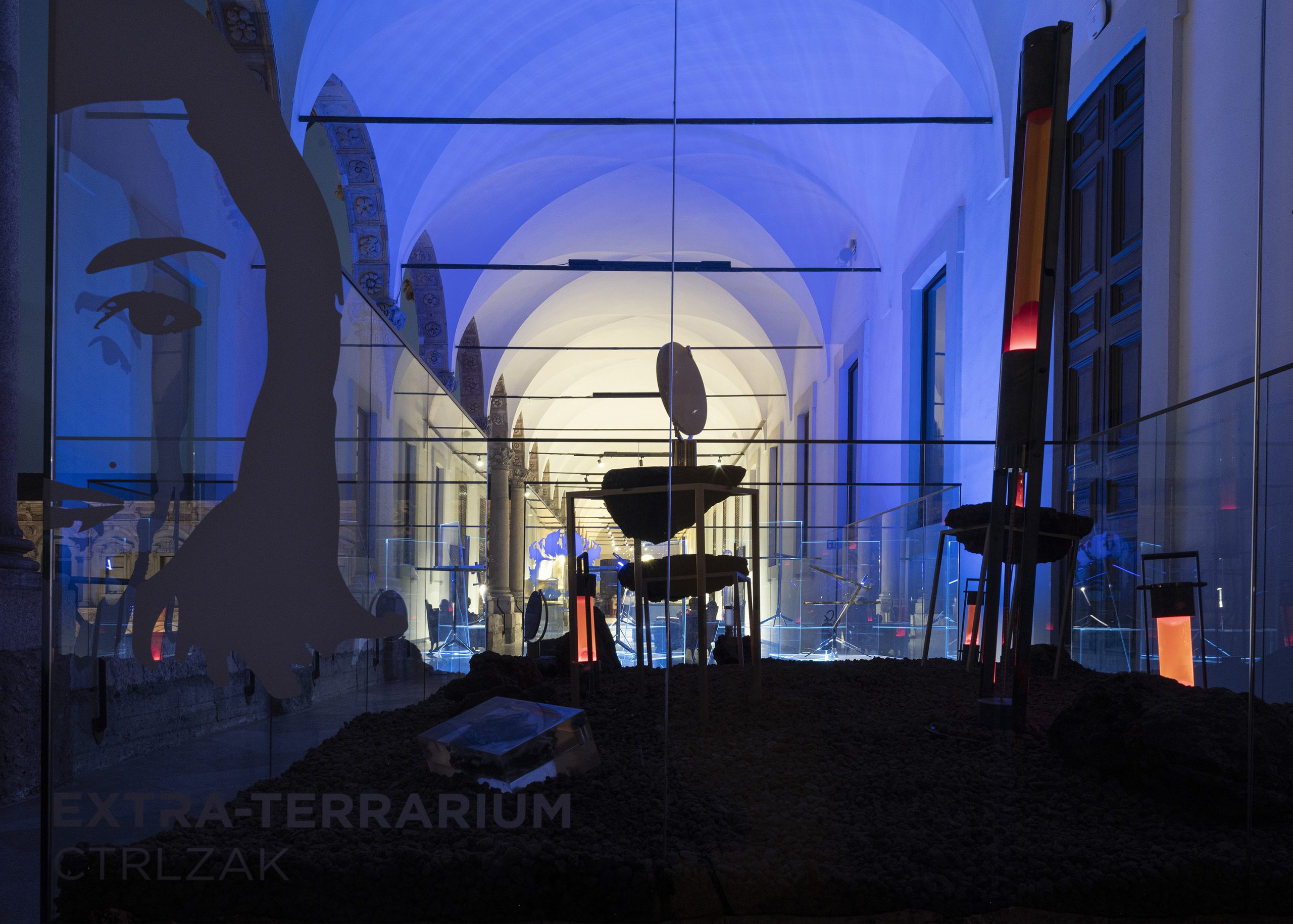 Extra-Terrarium | 2021 Milan Design Week
For the occasion of the Creative Connections exhibition by INTERNI the studio collaborated with Nanda Vigo, to present two fragments of the JCP Universe that represent each one's view of that imaginary reality. The title of the collective project refers to the prolific figure of Sun Ra, an innovator in the world of music claiming heritage from planet Saturn. Sun Ra in his work mixed the ancient with the futuristic and proclaimed the need for balance and harmony in the world. Likewise, the installation at the Statale University aims to bring attention to the connection with our planet depicted through CTRLZAK's 'geological' pieces and the vision of a future beyond our globe found in the pieces by Nanda Vigo seemingly ready to take flight in the cosmos.
Another Nature | 2020 Milan Design Week
Our natural environment is where all of our thoughts, actions and lives stem from. Everything we imagine, everything we create is ultimately based on what nature offers us. Consequently, any kind of creation is largely founded on what we perceive around us. But what if this natural world were different from the one we are used to? Another Nature presents JCP's unique ecology, through its' artifacts that go beyond mere functional objects, becoming instead symbolic pieces of an alternative reality. A reality that hopefully will make us ponder upon our own way of life in this precise moment of space-time, here on planet Earth.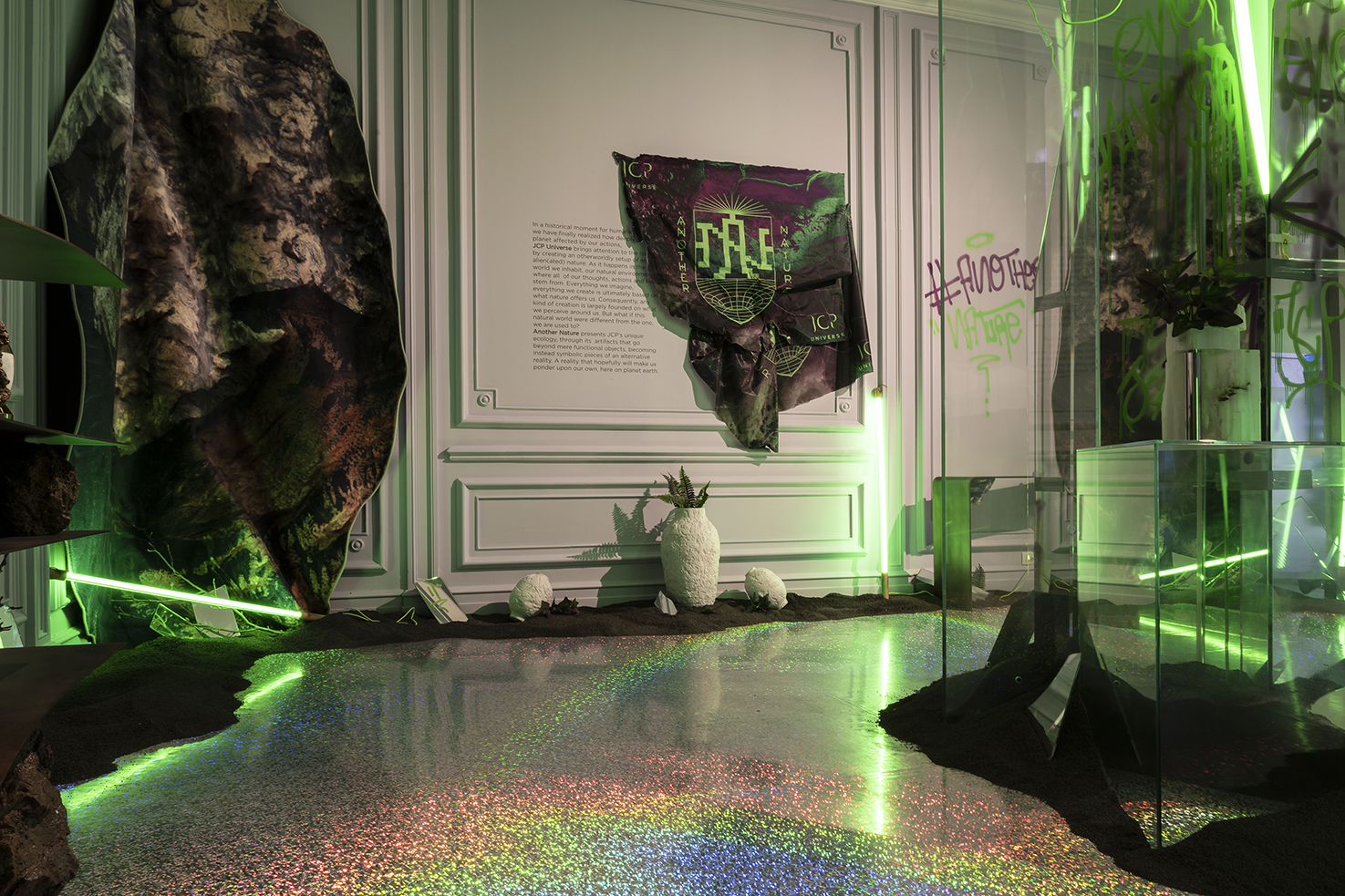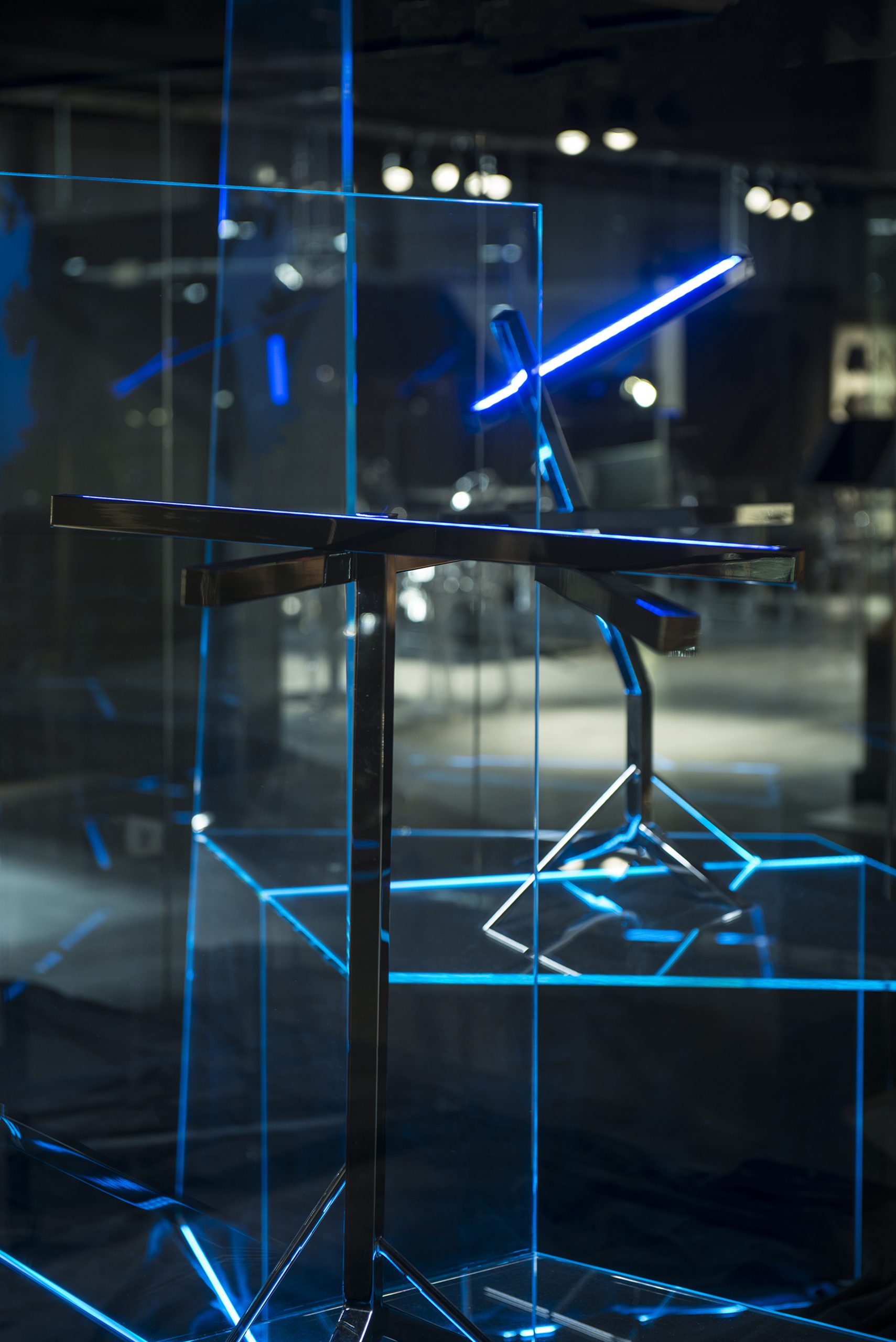 Sæturn | 2019 Milan Design Week
Each fragment is a large glass cube, seemingly manifested out of thin air, hosting diverse artifacts from the artist's creations for the JCP Universe. Nanda Vigo's pieces are linear metal constructs in chrome finish emitting blue and white light from their bodies, suspended in mid-air by transparent structures that transmit blue light themselves. The pieces from the studio are all connected to geological elements utilising igneous rocks, metamorphic stones and 'lava' specimens embedded in a volcanic ground with its layers of stone visible on the sides of the installation.
Under The Prism | 2019 Milan Design Week
Within a specially conceived setup, the exhibition takes the form of an otherworldly prism, offering the visitor a view of another universe through various filters and perspectives. The artifacts become protagonists of chromatic micro-situations where the canons of vision get transformed, revealing new visual aspects.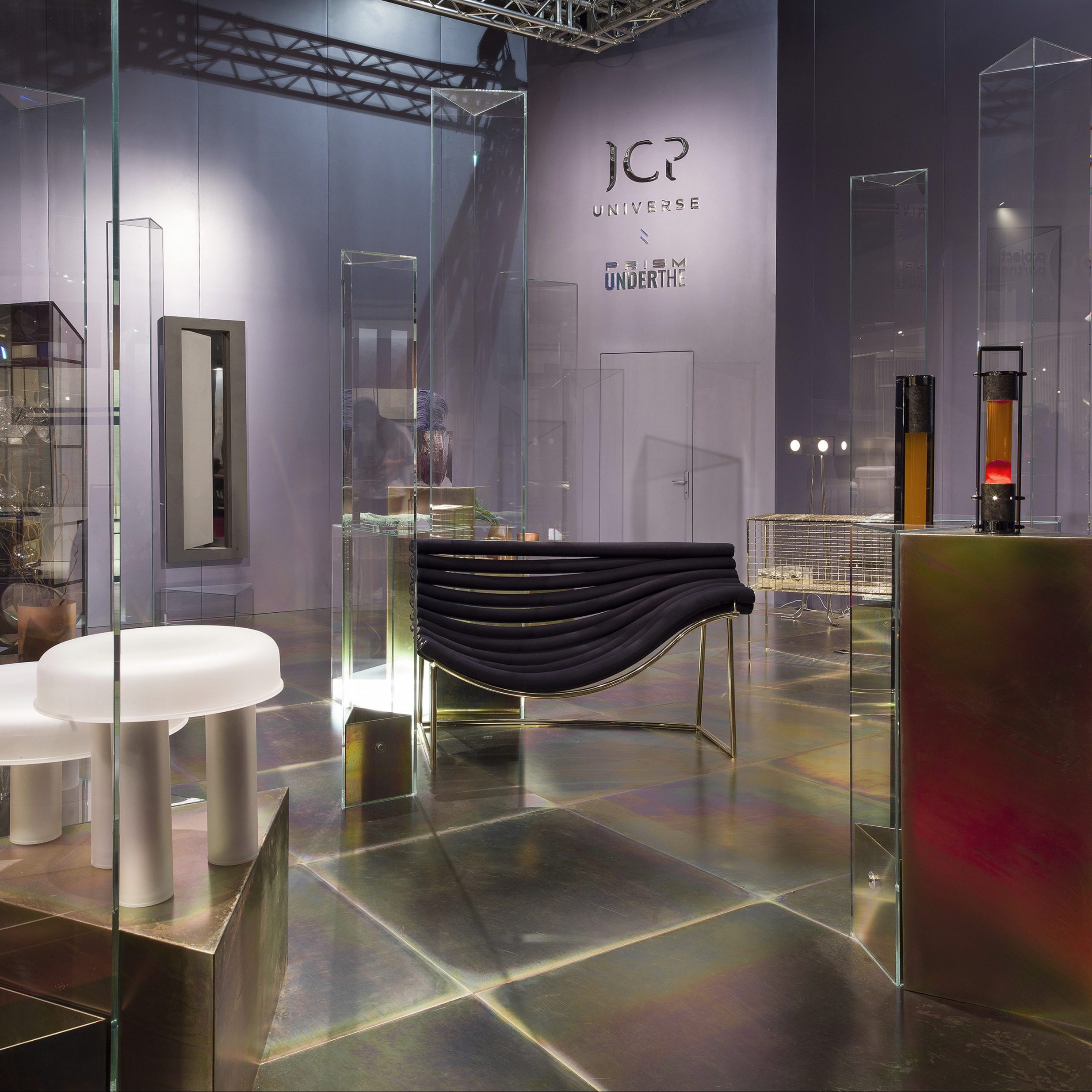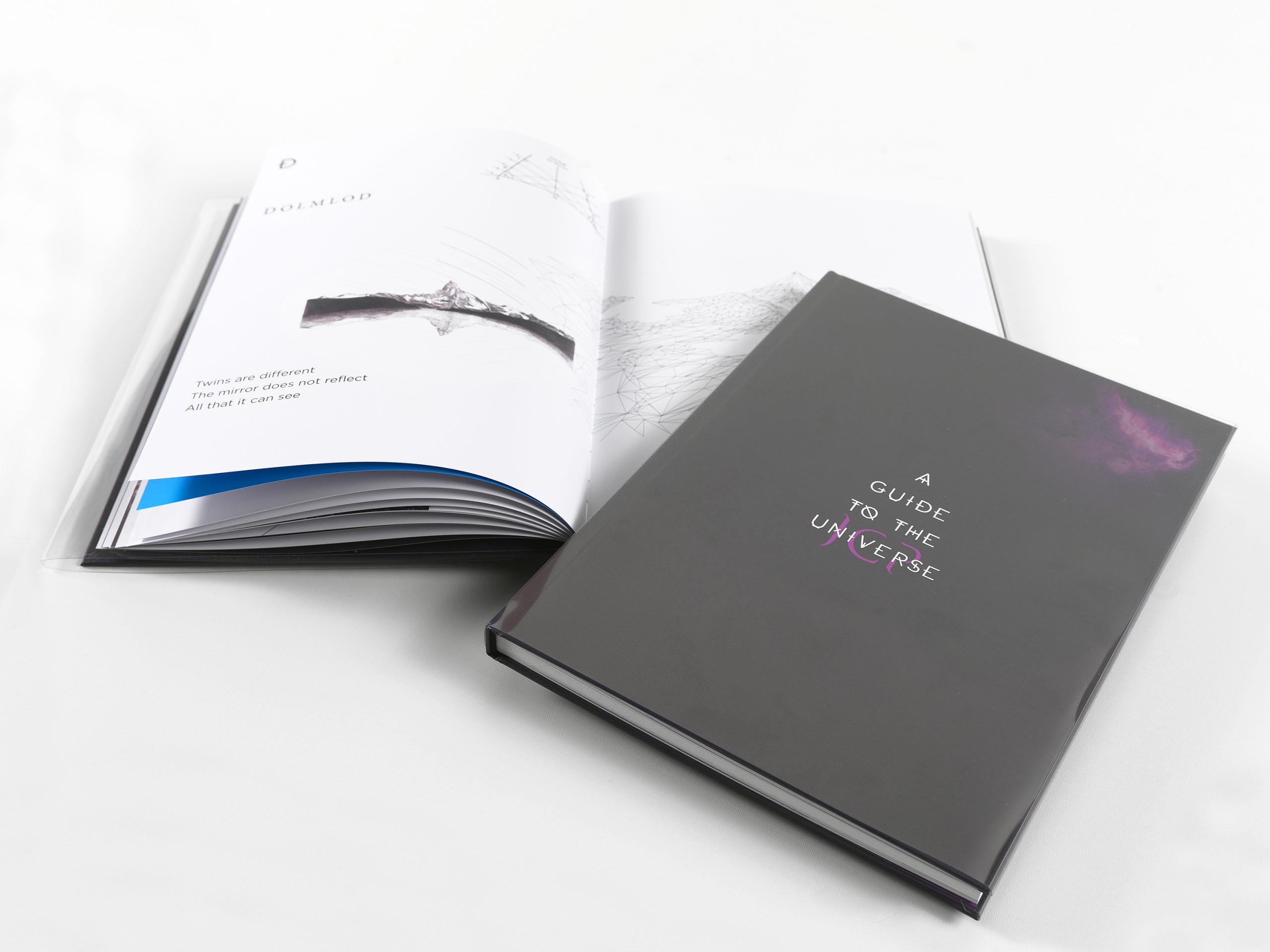 'A Guide to the JCP Universe' Catalogue
This new limited edition book is an actual guide illustrating the JCP Universe from its initial creation to its current moment of expansion. A unique visual experience through the eyes of the Traveller, the mysterious narrator, that accompanies the reader to a journey of discovery between science and fantasy. JCP's artifacts come to life through a combination of images, drawings, photographs and poetry resulting in a book that goes beyond mere appearances and form.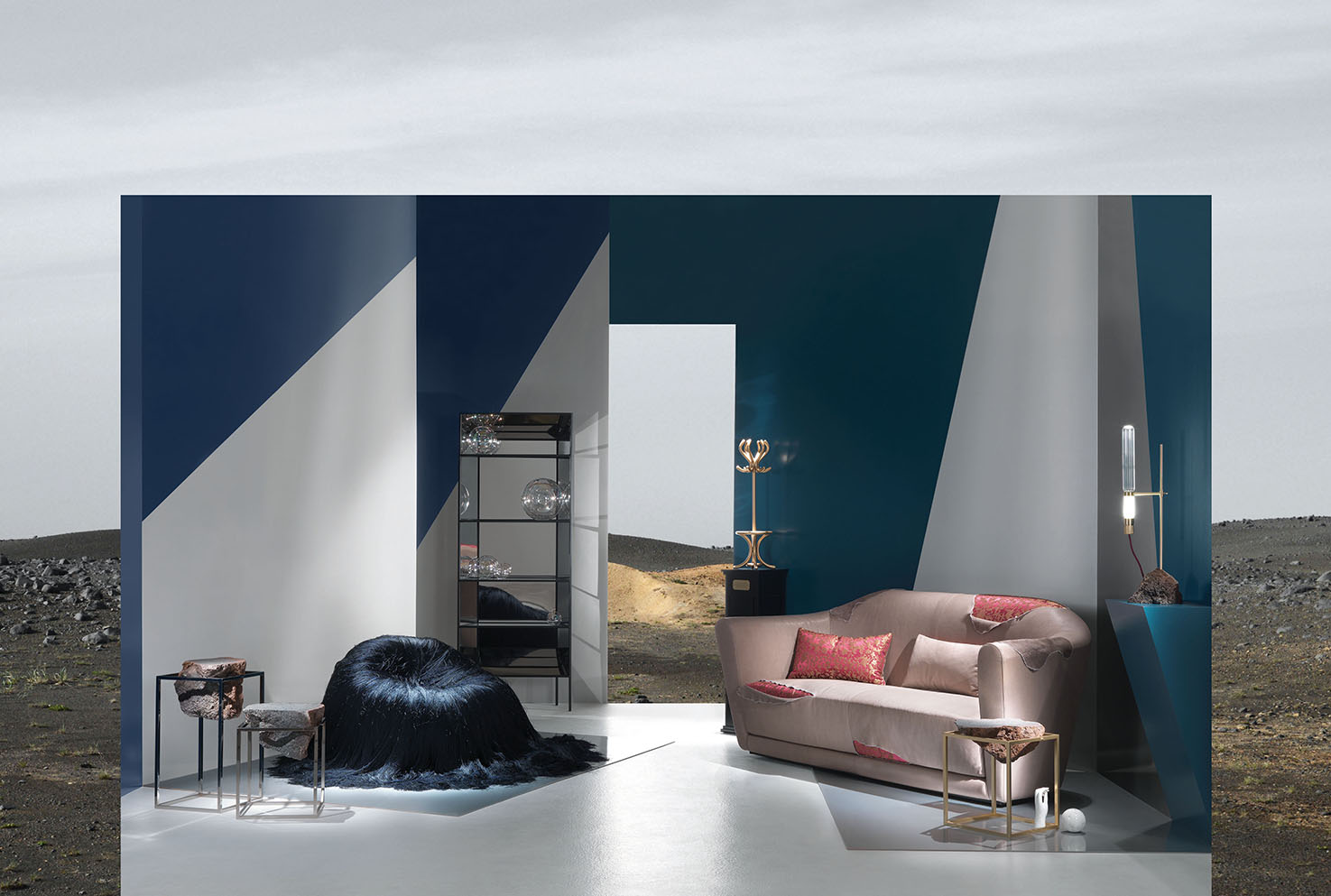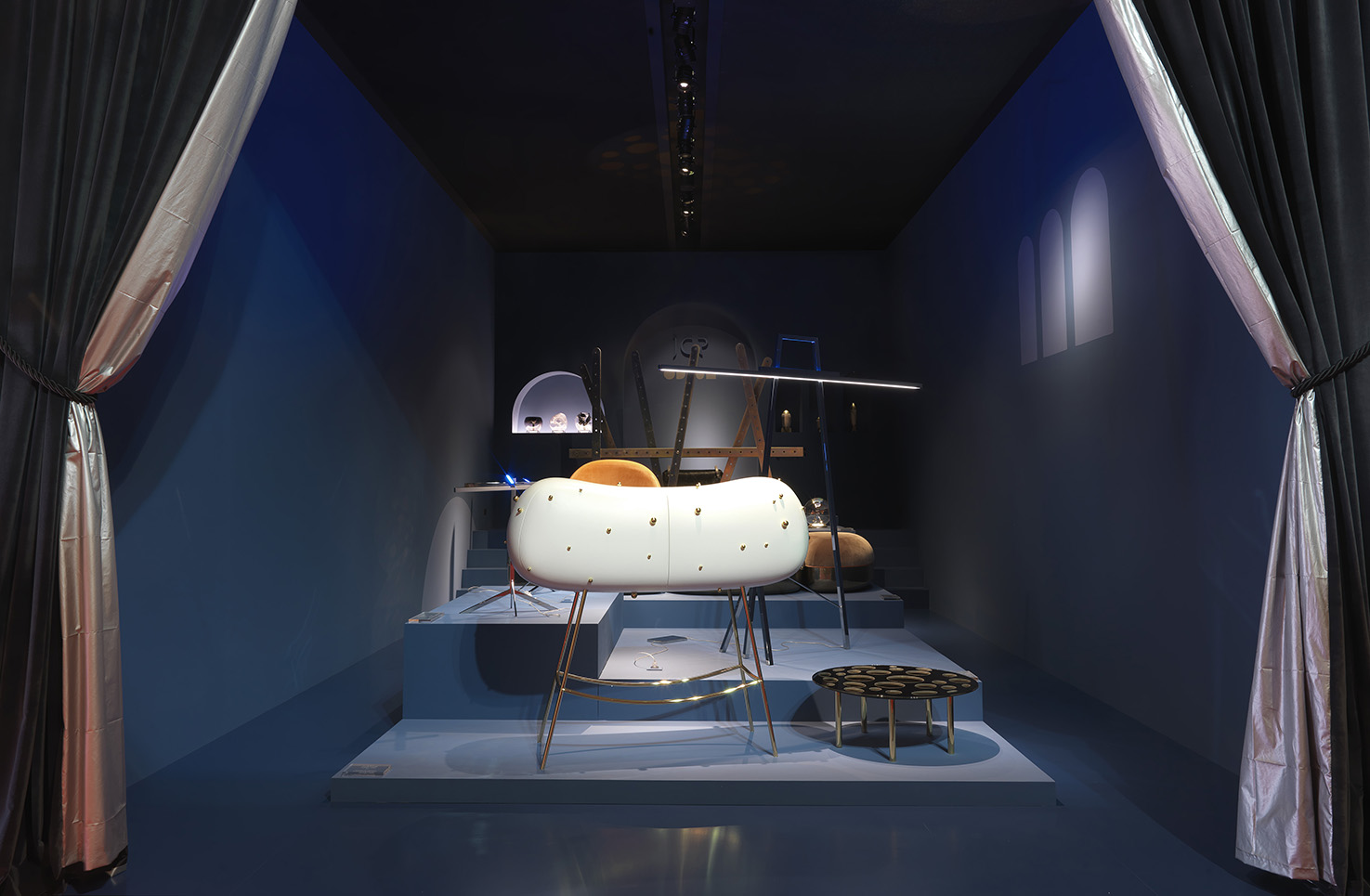 Odeum | 2018 Milan Design Week
This year's cosmic installation orchestrated by CTRLZAK, Odeum, was the setting for JCP's new artifacts. Within a specially conceived setup, the exhibition took the form of a metaphysical theatre, transporting the visitor in another dimension through an intriguing game between light and shadow, where every object transformed itself, revealing new forms and unexpected functions.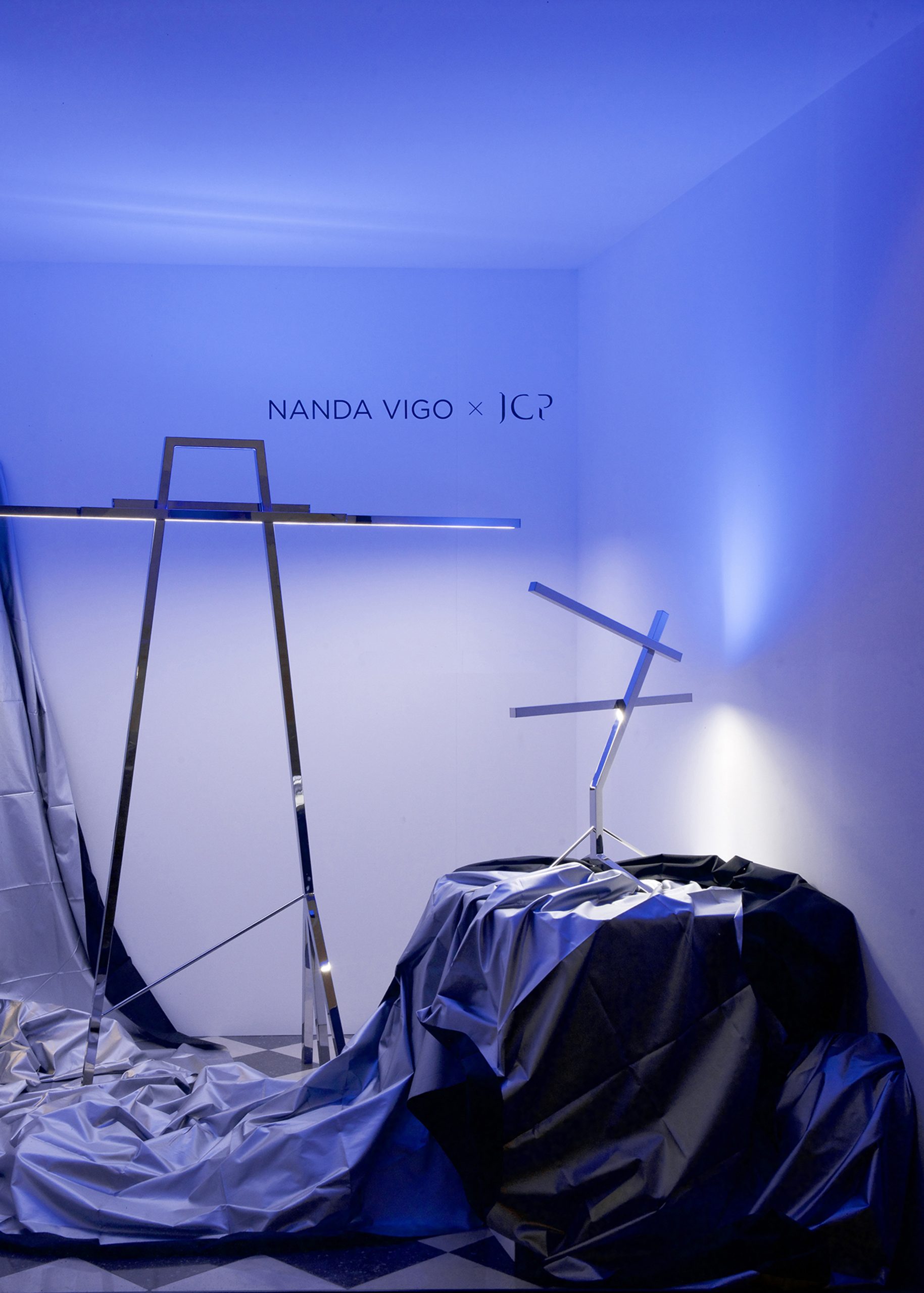 Sun-Ra | 2018 Milan Design Week
Working alongside Nanda Vigo, the studio curated and designed the exhibition of the collection of lamps designed by the Milan-based "maestra" of light. Characterised by an hybrid identity, between art and design, the SUN-RA lamps highlight the synthesis of Nanda Vigo's career: the research for the interference between light and space where the project stops being only an object and becomes an artwork.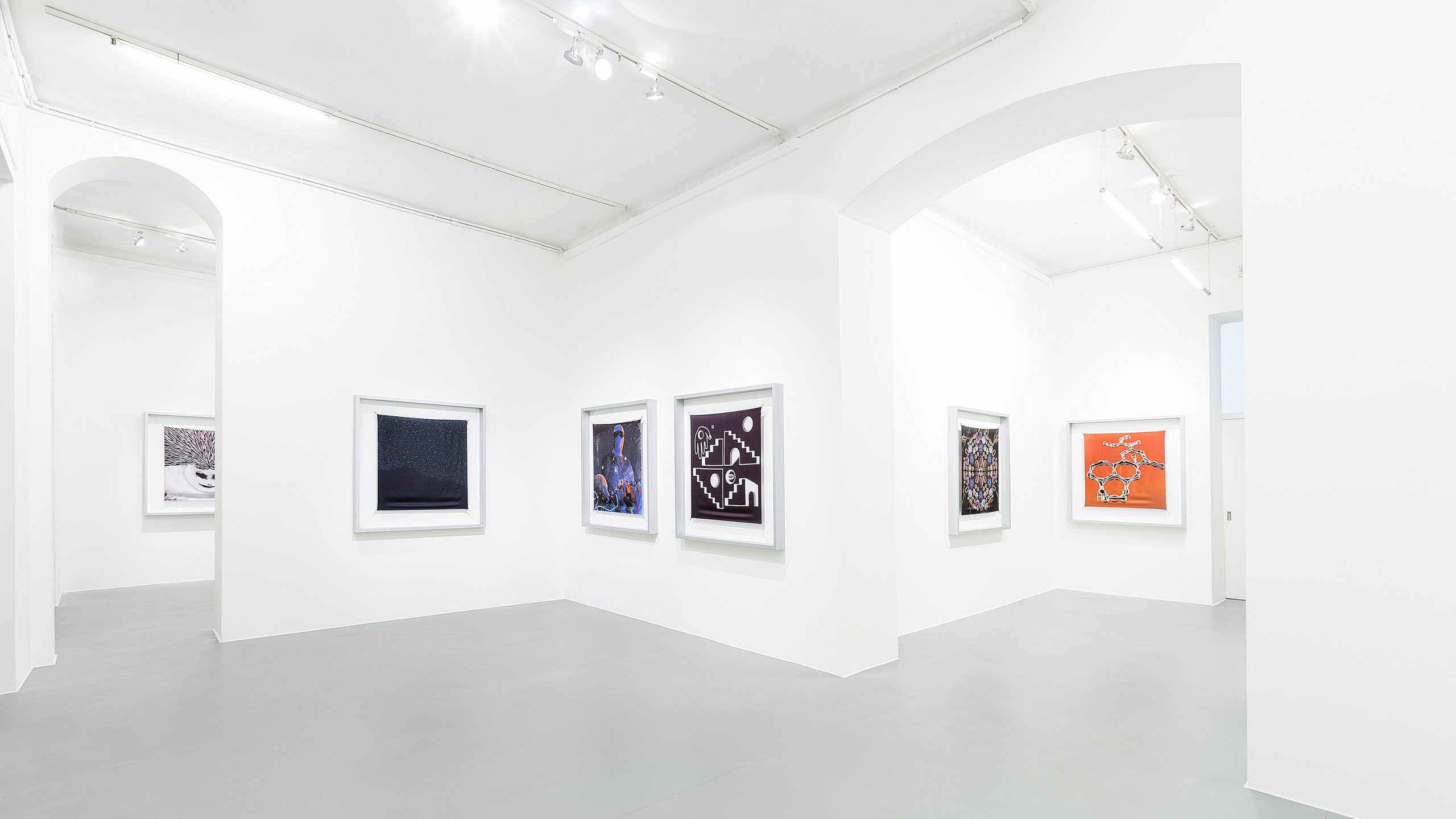 World Unseen | 2018
Inspired by the creation of the JCP Universe, a project based on the sphere of design, this exhibition aims to bring together the creativity of contemporary art in the form of a medium utilised in the world of fashion. An exhibition showcasing the work of 11 creatives from diverse cultural backgrounds and disciplines utilising a common canvas made of silk. Bianconi gallery, known for its unconventional approach to art projects, becomes the host of this project that bridges diverse creative disciplines. The exhibition will be presented during the Milan Fashion Week of February 2018 opening thus the range of its public in an attempt to contaminate the aficionados of both worlds.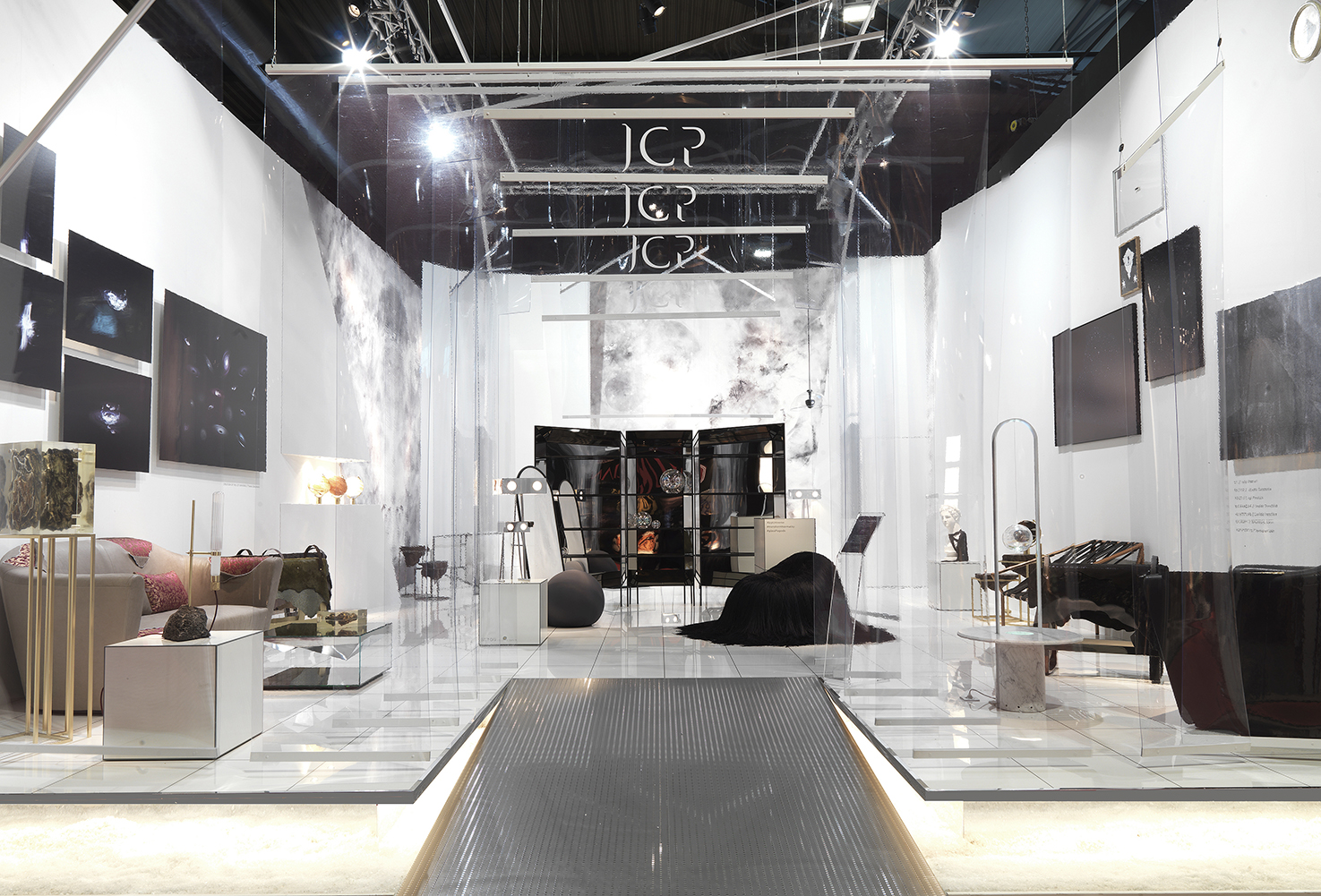 Glass Pagoda | 2017 Milan Design Week
Using hybridization and a multidisciplinary approach as distinguishing features, the presented designs investigate the theme of time perception between physics and imagination. The creations of the JCP universe are like contemporary artifacts that interpret notions of the past through new forms and technologies projecting them at the same time in a future dimension. With JCP a new extra-ordinary reality is taking shape; the past blends with the future and vice versa, in a continuous transformation.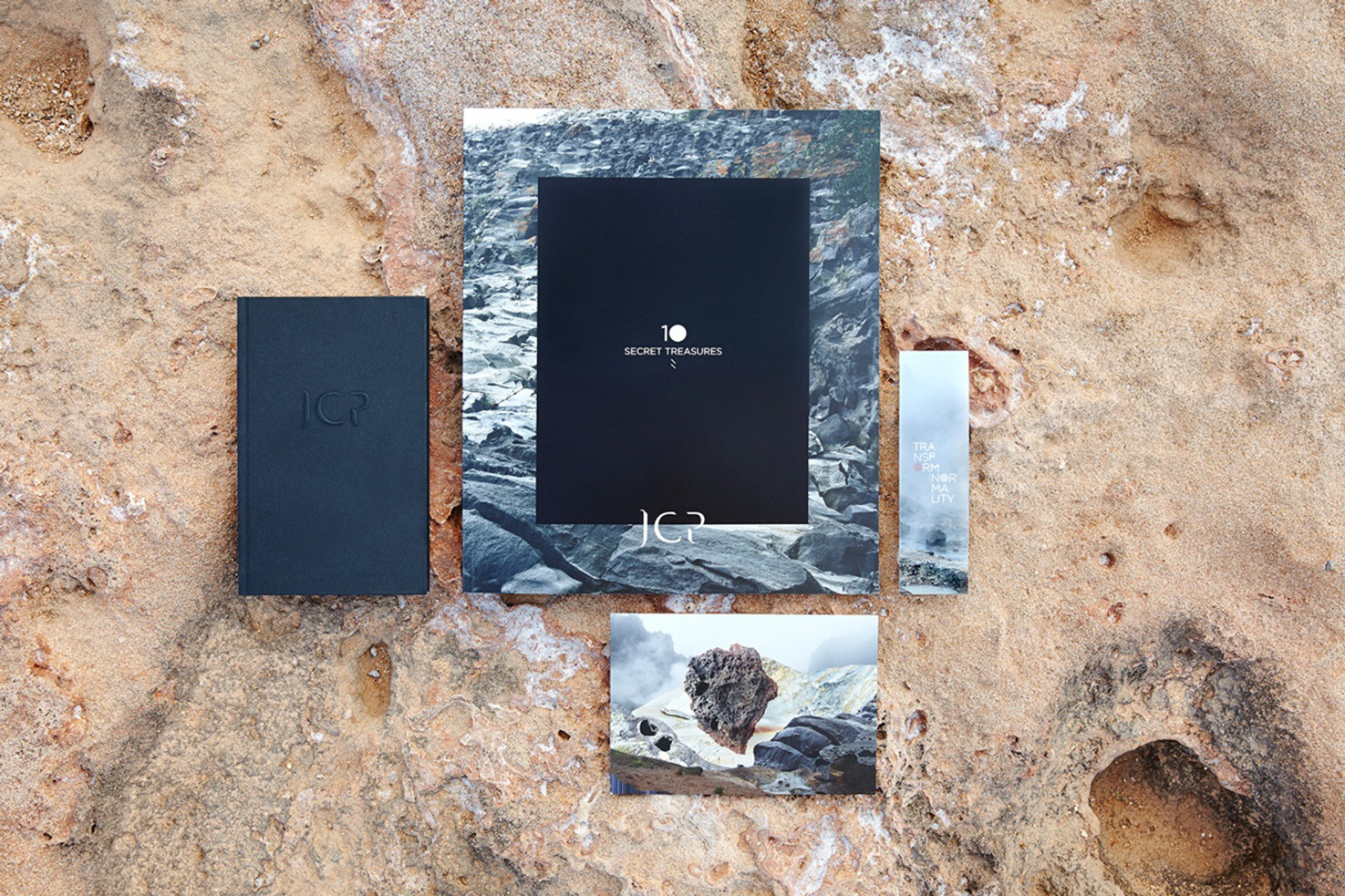 '10 Secret Treasures' Catalogue
The purpose of the exhibition's catalogue is not to speak about the design exhibits themselves, but rather to create the 'universe', the world where they came from. Using abstract landscape photography, a peculiar sensation is created, giving extra depth and substance to the objects depicted.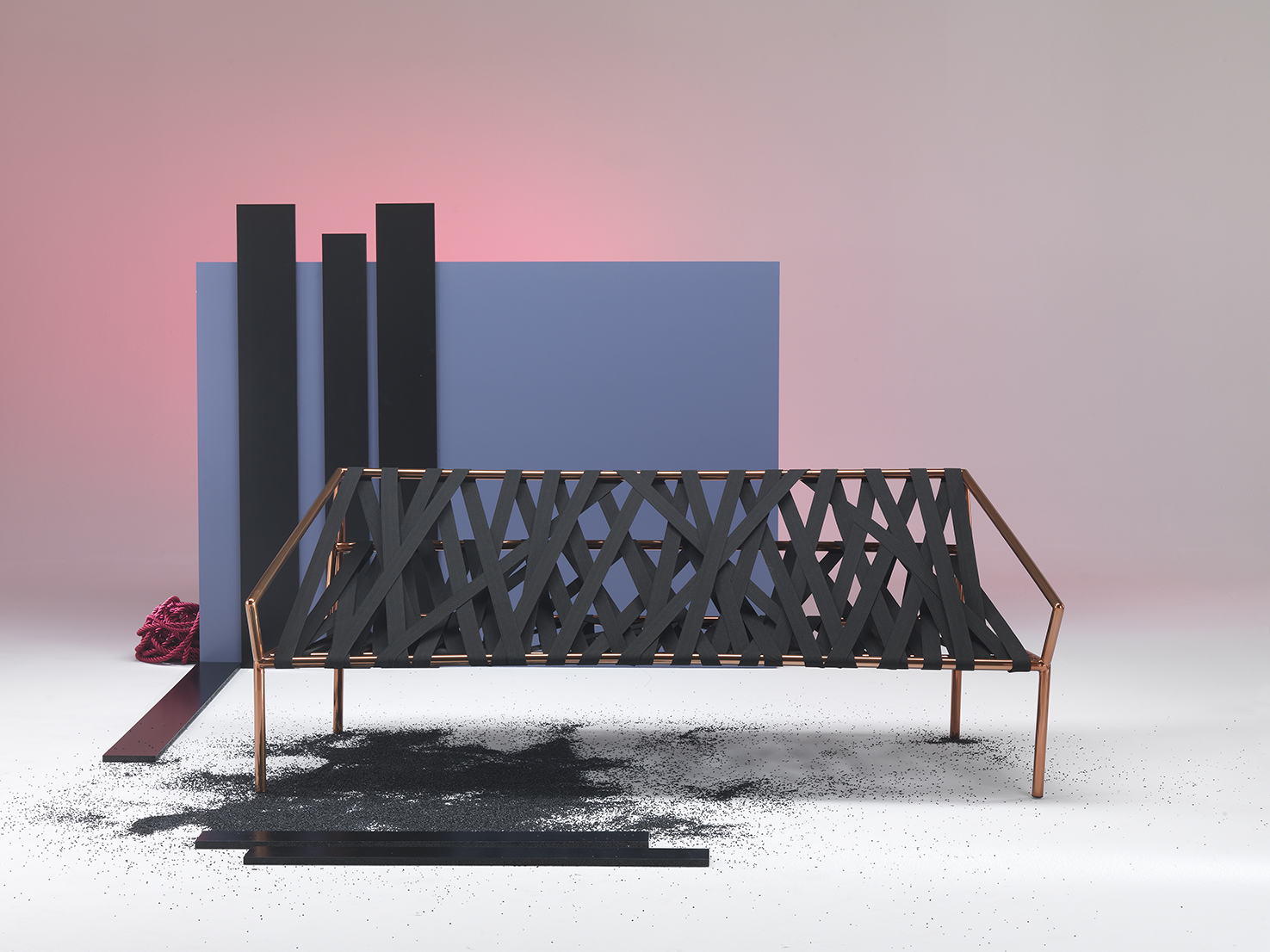 10 Secret Treasures | 2016 Milan Design Week
On the occasion of the Milan Design Week 2016, JCP offers a glimpse of a new universe. The ten creations signed by the artificers Emanuele Magini, Alessandro Zambelli and CTRLZAK Studio are the protagonists of Ten Secret Treasures, a journey that leads visitors to the discovery of JCP. A narration that illustrates an eclectic universe through which JCP is creating a new reality in the design world.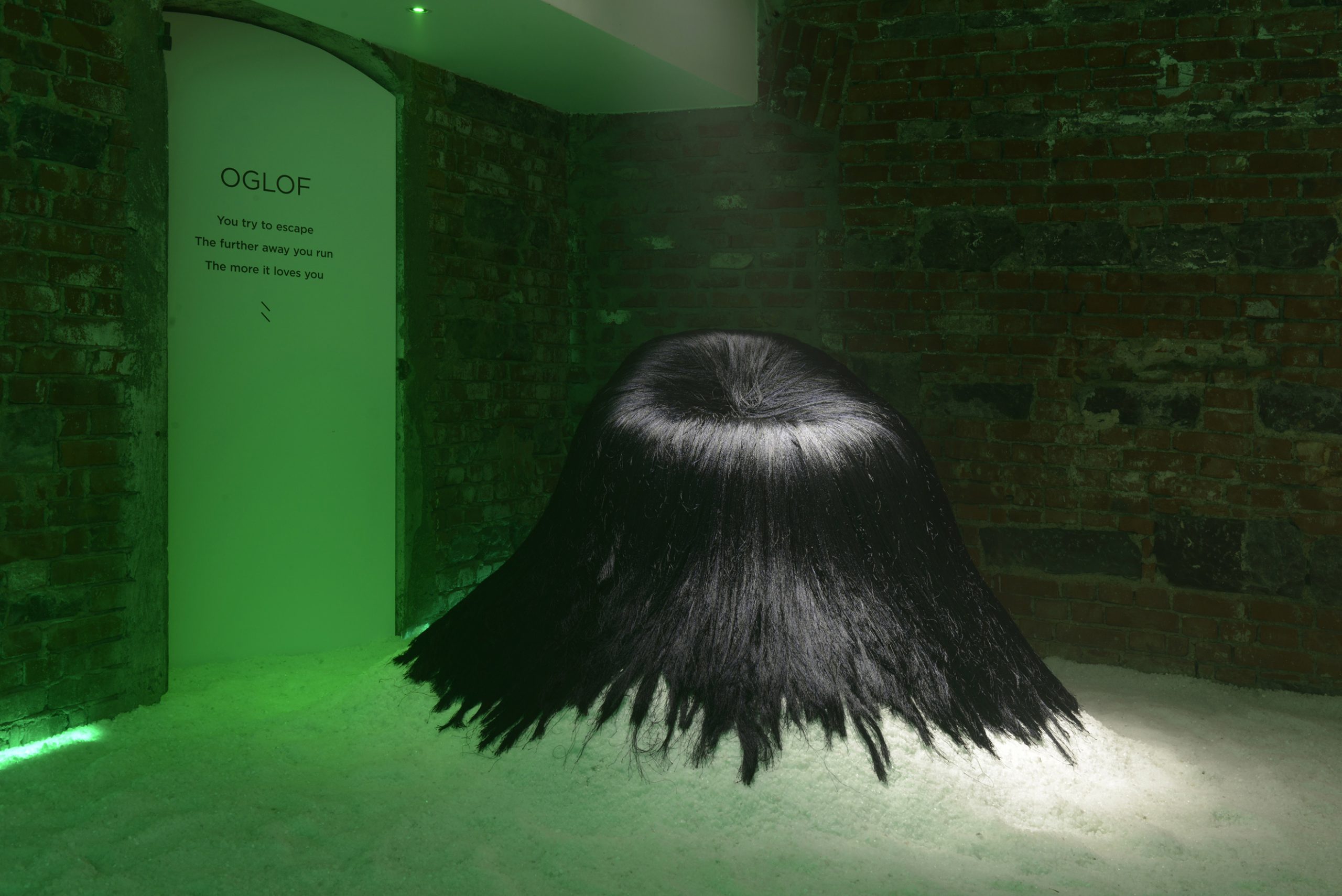 Secret Gates | 2016 Triennale Teatro dell'Arte
JCP Universe is introducing the installation Secret Gates through a performance created at the Triennale Teatro dell'Arte, alongside director Vittorio Borsari. The ten objects, located within the two floors of the building, spectacularly transformed in alien landscapes, will recount the continuation of a voyage, which is what really counts: "The collection, from this point of view, represents a paradigm, a leg of the journey just begun – explains Livio Ballabio – what really counts is the path of a new route."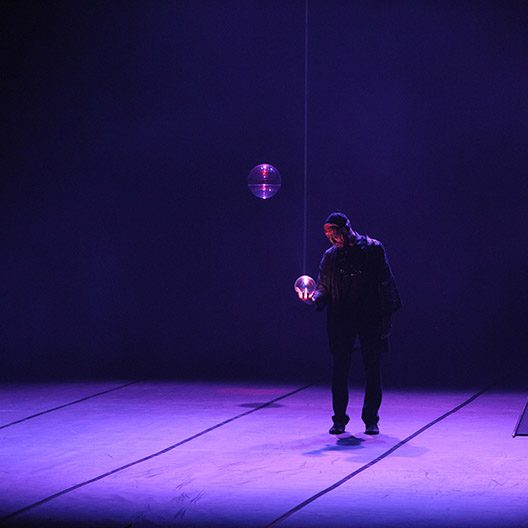 Contemporary Murals
Next